Great Engagement Day in Armagh!
The village of Cullyhanna, County Armagh, gave a great welcome to StreamScapes as part of an Environment Fair in St. Patrick's GAA Club Community Hall, in the midst of the pleasant landscape and warm people of the Slieve Gullion region.
A partnership between Mullaghbane and Cullyhanna Community Association, Coomhola Salmon Trust/StreamScapes, Dundalk Institute of Technology's 'Centre for Freshwater and Environmental Studies', Ulster Farmer's Union, Newry Mourne and Down District Council's Ring of Gullion Partnership and the Woodland Trust, with support from Northern Ireland's Environment Agency's 'Challenge Fund', produced the Fair to celebrate local waters and wildlife.
The Fair saw interested locals and families come through over the course of the afternoon to learn about water quality, pollinators, birds, trees, red squirrels, and local salmonids and other fish.  Visitors included Newry Mourne & Down Chairperson Gillian Fitzpatrick, Father Kevin Cullen, and 'Big Tom' McBride, who has been an avid local angler all his life.
Local Authorities Waters and Communities Office (LAWCO) was represented by Bernie O'Flaherty and Greta McCarron to highlight the shared Catchment of the Rivers of Dundalk Bay, some of which arise in County Monaghan, flow through Armagh and enter the sea in County Louth.
Stephanie O'Toole of StreamScapes collaborated with Dr. Suzanne Linnane's team from Dundalk IT's 'Shared Landscape Shared Waters' Project to produce a virtual Field Trip of Aquatic Insects to demonstrate how these water bugs may indicate local water quality.  Participants in this exercise were encouraged to determine what 'Bugs' were present in samples from the nearby Castletown River using ID Keys, and then to determine what the water quality was.
Mairéad Crawford and Oisin Duffy presented their stunning wildlife photographs as well as a collection of native tree twigs to prompt identification skills; Geoff Quinn of Brook Cottage Angling exhibited his wonderful collection of tied flies and live (!) wriggling angling baits that he uses to teach angling skills to schools and students throughout the region; and Therese Hamill of the Ring of Gullion Project introduced people to the wonders of the Red Squirrel and other local wildlife (and provided Badge colouring and fabrication!).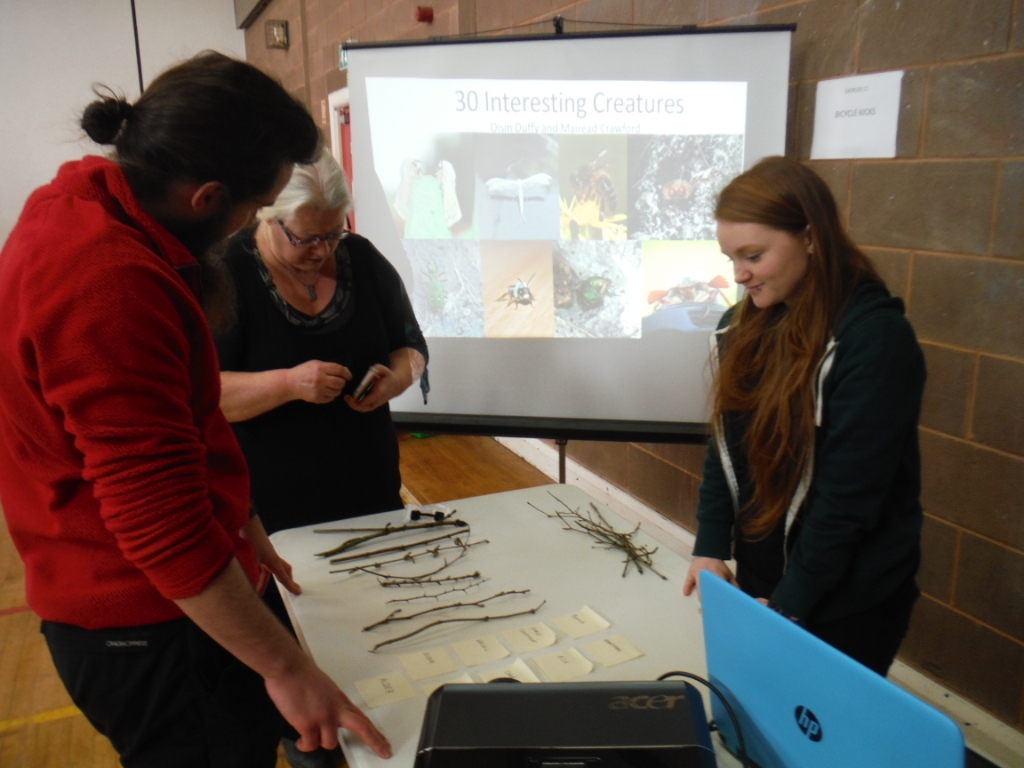 Over in another corner, Jess Mason of the 'StreamScapes' team led 'Eco-Art' sessions where visitors could make marbled-paper and willow fish to take home.  'Big Tom' produced a spectacular 'marbled fish', while LAWCO's Greta McCarron encouraged people to imagine and express their vision of how the Aquatic & Biodiversity resources of the Rivers flowing into Dundalk Bay could be conserved and enhanced.  Younger visitors availed of the creative face-painting on offer.
To top it off the Event enjoyed a short play produced by Scor na Og  2017 All Ireland finalist St Patrick's G.F.C Cullyhanna, and the Story-telling skills of local man Peter Carragher.
Many thanks to Teresa Nugent of the Cullyhanna Community Association for providing the venue, Therese Hamill of the 'Ring of Gullion' Project for great organisation, to all Cullyhanna Project Exhibitors and Participants, and great appreciation to the wonderful staff of Tí Chulainn in Mullaghbane for hosting the StreamScapes team! Go raibh míle maith agat!
This Project was generously supported by 'The 2017 Challenge Fund'.